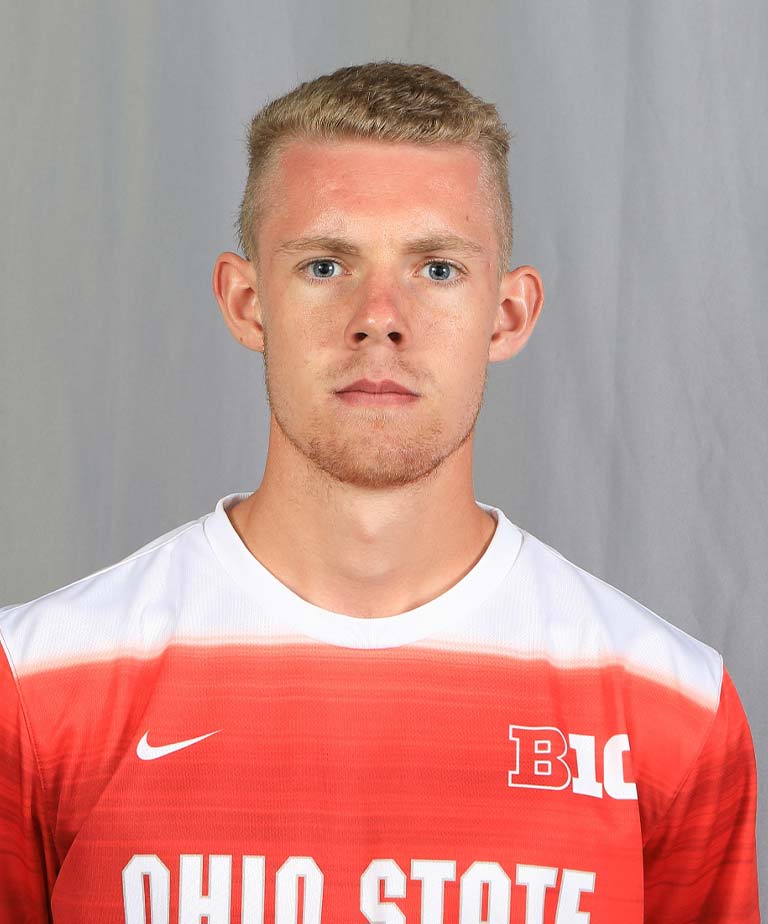 Hi, my name is Mitch Bergman, and I am a junior on The Ohio State Men's Soccer team. Having lived in central Ohio for my entire life, Ohio State and everything associated with the university has become a very prominent part of who I am. Ever since my parents took me to campus for the first time and explained that they graduated from the university, it became a dream of mine to attend Ohio State and follow in their footsteps. As I grew up and started to develop in my sport, I realized that my dream had changed ever so slightly, because now I wanted to not only go to school at Ohio State but also play soccer at the highest level as a Buckeye. Going into my sophomore year of high school I began to be recruited by some big programs in the Midwest, but I continued to work and wait for that call from the school that I dreamed of attending ever since I was a kid. The summer before my senior season, I received that phone call, and I haven't looked back since that day. I am beyond proud to call myself a Buckeye, to be a part of this incredible community that spreads beyond campus, and to follow in my parent's footsteps by pursuing a degree in engineering, just like they did while they were here. For me, Ohio State isn't only an incredible education or an opportunity to play collegiate soccer, but also a fulfillment of a lifelong dream.
I have been very fortunate to be where I am today. I credit my accomplishments to the incredible support system I have had behind me in accomplishing the goals I have set for myself. However, this is not to say that I have not faced challenges along the way. I was never considered one of the top recruits in the country coming through high school, but with an incredible amount of hard work and dedication, the pieces fell into place for me to get noticed by the coaching staff at Ohio State. Understandably, I was not getting a lot of recruiting exposure due to the size of the high school I attended and because I chose to play club soccer outside of the professional academies. Like most kids my age, I wanted to experience high school more fully, but these choices ultimately made my path to Ohio State that much more difficult. I can't tell you how many people doubted my intentions to play at Ohio State while growing up. But the fact that I was fortunate enough not to sustain any career-threatening injuries during my recruitment or not to have anything take me away from soccer prior to Ohio State is what I am grateful for. While those comments and conversations motivated me to prove those people wrong, I genuinely believe that they played an essential part in the journey to be where I am today. I will inevitably have to overcome many obstacles ahead, but for now, the challenges behind me define who I am and fuel my desire to accomplish even greater goals.
What sets Ohio State apart from all the other schools that I was interested in or recruited by is the community that you become a part of when you attend Ohio State, both as a student and an athlete. As a student here at Ohio State, I have been introduced to the incredible amount of connections and resources that the university has to offer its students, but what has truly impressed me is the university's apparent intention to meet the needs of all its students. Whether it be professors, advisors, or tutors, the people at Ohio State honestly care about the students and want to help contribute to their success.
As a student-athlete, the university does a great job of making sure we have all the tools to succeed both on and off the field. Not only is the sheer amount of resources and time the university invests in their student-athletes absolutely astounding, but the attention to detail and dedication that the athletic department gives to our development as both student-athletes and people is what makes Ohio State special. The athletic department holds incredibly high standards of its athletes. At Ohio State, you are training with some of the best athletes, trainers, and coaches in the country, so performing at an elite level is not a choice, rather it is an expectation. Training and developing in such a program has been an incredible experience, and while it has been very challenging, it has also been extremely rewarding.
I have been beyond fortunate to have been able to work with some pretty amazing people here at Ohio State, but if I had to single out one person who has had an impact on my life, it would have to be our Strength and Conditioning Coach, Andy Britton. At the time I will have written this, the team and I will have only been working with Andy for six months, but even so, it just goes to show how much of a positive influence he has had on us in such a brief period of time. The reason why Andy has become so crucial to our team and me is the example he sets for us day in and day out. He is driven, always full of optimism, and most importantly, he genuinely cares for everyone he works with, both as athletes and people. Not only is Andy the first person to greet you at the gym doors, but he's also the guy motivating you as you're finishing that last sprint. He's just that type of person: a role model for all student-athletes at Ohio State. I am very grateful to have been able to work with Andy on a daily basis, and I am incredibly excited to see how he can help me develop as an athlete, but also as a person, over the next two years.
At Ohio State, athletics are incredibly important to all of the university's students, alumni, and fans, so performing on the field, and in the classroom, is beneficial to the Buckeye community. As a student-athlete, we are held to very high standards and are consistently expected to compete on a national level, no matter what sport we represent. This expectation, and the standards set by athletes who have come before us motivate us to train at a higher level than others and conduct ourselves in such a way that we are representative of what it means to be an Ohio State student-athlete. It is a privilege to rep the scarlet and gray, but with this honor also comes a great deal of responsibility. Student-athletes here at Ohio State are placed under a lot of pressure to perform, but this pales in comparison to the incredible feeling of representing Ohio State in competition. We represent not only ourselves but also close to half a million graduates spread across the world. Not many athletes can say that they've experienced something quite like this.
I have been a student-athlete here at Ohio State for only two years, but I can honestly say that I have learned a lot from all the incredible experiences I have had so far as a Buckeye. Coming from a small, private high school, I have certainly gained a lot of perspective over the course of the past two years. This perspective has allowed me to explore new opportunities and invest time in things I never thought I would, but most importantly, my experience at Ohio State has proven to me that I am more than capable of accomplishing anything I set my mind to. Being at Ohio State, especially as a student-athlete, has provided me with the resources and opportunities to achieve my goals and develop who I am and who I want to be, both as an athlete and a person. I am incredibly happy about my decision to become a Buckeye and look forward to the years to come.