In 2016, more than 860 Buckeye Club donors raised an additional $860,689 for student-athlete scholarships. Now in its seventh year, the program has generated more than $5 million towards scholarship support.
Every dollar raised through the 110% Challenge directly benefits Ohio State's 1,000+ student-athletes competing in 36 varsity sports. OSU Student-Athletes are constantly striving to achieve excellence and the members of the 110% Team help our Buckeyes by matching their extra effort.
As the upcoming seasons approach, the Buckeye Club looks to you to help this impactful program grow. As is true for our student-athletes, every bit of effort makes a huge difference.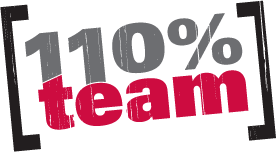 ---
Every extra rep; every extra second; every extra yard matters. Help our student-athletes give a little extra.
To join the 110% Team, simply renew your donation to the Buckeye Club and click on the "Join the 110% Team" checkbox below your gift amount.

* New donors are eligible if they donate 10% more than the level minimum.
For more information, call the Buckeye Club office at
614-292-9908 or email BuckeyeClub@osu.edu.
*Your total must be 10% more than last year's gift amount.